By: Alli Neal
cheatsheet.com
Every time a recipe calls for just egg whites or yolks, there's an inevitable internal struggle about the remaining part of the egg. Do you throw it out? Is that wasteful? What can you make with strange numbers of egg halves? We love soufflés and angel food cakes and custard-based ice creams, but then we're left facing the problem of too many lonely egg parts.
The good news is, you don't have to use them immediately, so you don't have to feel like you're stuck doing twice the cooking you really want to do. According to FoodSafety.gov, raw egg whites and yolks will keep for 2 to 4 days in the refrigerator. You can freeze egg whites for up to a year as long as you use them immediately after thawing; egg yolks do not freeze well. The best way to store egg yolks in the fridge is in an airtight container under a thin layer of water. Then, in the next couple of days, use them to make any of these 9 recipes and never struggle with the waste debate again.
1. Homemade Mayo: 2 Yolks
We'll start with the lonely but incredible yolks. If you only have 2 egg yolks that need to be used, you can make about 1 cup of mayonnaise at home. Mayo is simply an emulsion of egg yolk and oil. To make it, you whisk egg yolks and a bit of lemon juice with some salt and pepper. Keep whisking and gradually drizzle in oil; the agitation of the whisking will make the egg yolk and oil, things that normally don't like each other, play nice. If you have an immersion blender, this process couldn't be easier — as shown in this recipe from The Kitchn. It can also be done in an upright blender. For a bit of an arm workout, go for old-school whisking. Use your mayo as a dip or spread wherever you'd like. Feel free to add other spices to make chipotle mayo or fresh herb mayo, folding them in after the fact.
Note that if you use olive oil, your mayo will taste like olive oil. For a neutral flavor, use canola or safflower oil.
Ingredients:
2 egg yolks
1 teaspoon lemon juice or vinegar
½ teaspoon salt
½ teaspoon dry mustard, optional
1 cup canola oil, olive oil, or any other oil
Directions: Combine the yolks, lemon juice, salt, and mustard in the blender cup or canning jar. Pulse with the immersion blender a few times to break up the yolks, tilting the cup if necessary so the blender blade reaches the yolks.
With the immersion blender running, add the first ½ cup of oil a few tablespoons at a time. Make sure each addition of oil is completely blended before adding the next. The mixture should start to thicken and lighten.
Once the first half cup of oil has been added, you can add the rest more quickly. Add as much of the oil as needed to reach the consistency you prefer; the more oil you add, the thicker the mayo will become. You may not need to use all the oil. If the mayo becomes too thick and you'd like to thin it out, blend water, 1 teaspoon at a time, into the mayo until you reach your desired thickness.
Transfer any mayo not being used immediately to a storage container or seal the canning jar. Homemade mayo will keep for about 1 week in the refrigerator.
2. Caesar Salad Dressing: 2 Yolks
Not a fan of mayo? No problem. Use your egg yolks to make your own Caesar salad dressing. As Bon Appétit says, "a great Caesar salad gets its swagger from a great dressing." Making your own at home is as easy as blending or whisking, and you get to control additives like strange thickeners, preservatives, and sugar. This dressing is at once rich, creamy, savory, briney, and zingy.
Ingredients:
6 anchovy fillets packed in oil, drained
1 small garlic clove
Kosher salt
2 large egg yolks
2 tablespoons fresh lemon juice, plus more
¾ teaspoon Dijon mustard
2 tablespoons olive oil
½ cup vegetable oil
3 tablespoons finely grated Parmesan
Freshly ground black pepper
Directions: Chop together anchovy fillets, garlic, and pinch of salt. Use the side of a knife blade to mash into a paste, then scrape into a medium bowl. Whisk in egg yolks, 2 tablespoons lemon juice, and mustard. Adding drop by drop to start, gradually whisk in olive oil, then vegetable oil; whisk until dressing is thick and glossy. Whisk in Parmesan. Season with salt, pepper, and more lemon juice, if desired.
3. Double Chocolate Pudding With Cocoa Nib Brittle: 3 Yolks
Classic American pudding is thickened with cornstarch, not eggs, while traditional French custard is made with eggs alone. This recipe from David Lebovitz is a happy combination of the two, using cornstarch for firmer structure and 3 egg yolks for richness. To make an even more incredible dessert, this recipe uses freshly made whipped cream and a quick brittle made from caramel and roasted cocoa nibs, available at well-stocked grocery stores.
Ingredients:
Pudding
3 tablespoons unsweetened cocoa powder, natural or Dutch-process
¾ cup plus 2 tablespoons sugar
3½ tablespoons cornstarch
⅛ teaspoon salt
2¼ cups whole milk
3 large egg yolks
2 ounces unsweetened chocolate, chopped
½ teaspoon vanilla extract
Brittle
¼ cup sugar
¼ cup cocoa nibs
Directions: To make the double chocolate pudding, in a medium saucepan, whisk together the cocoa powder, ¾ cup plus 2 tablespoons of sugar, cornstarch, and salt.
Gradually whisk in 1 cup of the milk, stirring until it's lump-free. Mix in the rest of the milk, as well as the egg yolks, and cook the mixture over moderate heat, stirring constantly with the whisk, until the mixture starts to boil and thickens enough to coat the back of a spoon.
Once it starts to thicken, reduce the heat if necessary to keep the mixture at a very low boil, stirring constantly with the whisk or a heatproof spatula until the pudding is thick and holds its shape, about 2 minutes. Remove from heat and scatter the chocolate over the top. Stir the chocolate in with a heatproof spatula, along with the vanilla, until the chocolate is fully melted and the mixture is smooth.
Divide the mixture into 4 or 6 glasses or bowls, and chill for at least two hours. Cover the tops if you wish to avoid a skin forming on the surface.
If the mixture seems lumpy before you scrape it into the glasses, give it a couple of brisk stirs with a whisk, or press it through a mesh strainer to smooth it out.
To make the cocoa nib brittle, lightly oil a 12-inch area on a baking sheet. Set aside.
Spread the ¼ cup of sugar in a skillet, in an even layer. Heat over medium heat until the edges liquify, then begin to turn an amber color. Using a heatproof spatula, or other utensil, gently stir the liquefied sugar in toward the center, stirring the mixture as gently as possible until the liquefied sugar is a dark amber color and just begins to smoke.
Remove from heat and immediately stir in the cocoa nibs, just enough to coat with the caramel. Scrape them onto the oiled part of the prepared baking sheet and spread as best you can, before it hardens. Let the brittle harden at room temperature. When cool, crumble into little bits.
Serve the pudding with a dollop of lightly sweetened whipped cream with crumbled brittle over the top.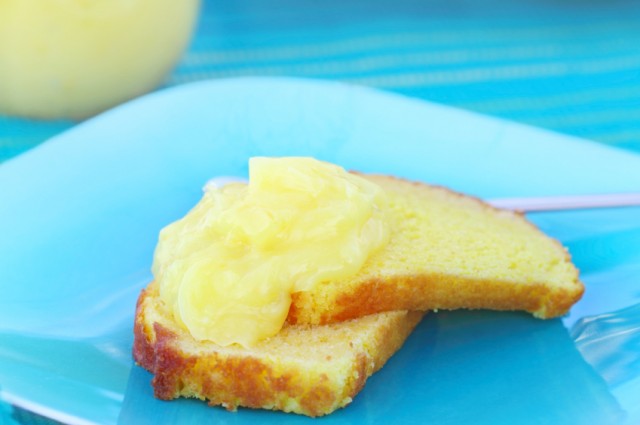 4. Lemon Curd: 5 Yolks
Though "curd" is not an appetizing word, lemon curd is a thick, soft, velvety spread that is at once sweet and tart. It's a great filling for cookies, cakes, and tarts, but it's also wonderful spread over scones, in crepes, or even dolloped on ice cream. The tricky thing with cooking lemon curd is keeping the egg from curdling and separating, which will leave you sieving out the little bits of scrambled egg after the pot comes off the stove. To avoid this, don't let the curd come to a boil and whisk constantly. This recipe from Alton Brown via The Food Network makes easy work of this 4-ingredient miracle, using a rigged double boiler to control the heat and dissuade curdling.
Ingredients:
5 egg yolks
1 cup sugar
4 lemons, zested and juiced
1 stick butter, cut into pats and chilled
Directions: Add enough water to a medium saucepan to come about 1 inch up the side. Bring to a simmer over medium-high heat. Meanwhile, combine egg yolks and sugar in a medium-size metal bowl and whisk until smooth, about 1 minute. Measure citrus juice and, if needed, add enough cold water to reach ⅓ cup of liquid. Add juice and zest to egg mixture and whisk smooth. Once water reaches a simmer, reduce heat to low and place bowl on top of saucepan. The bowl should be large enough to fit on top of saucepan without touching the water.
Whisk until thickened, approximately 8 minutes, or until mixture is light yellow and coats the back of a spoon. Remove promptly from heat, taking the bowl off the water, and stir in cold butter one piece at a time, allowing each addition to melt before adding the next. Remove to a clean container and cover by laying a layer of plastic wrap directly on the surface of the curd. Refrigerate for up to 2 weeks.
5. Fresh Pasta Dough: 7 Yolks
Fresh pasta is a very different pasta experience from boxed, dried pasta. It's silky and soft and rich, truly an ingredient in its own right rather than just a substrate for sauce. The secret to the best pasta dishes anywhere is to use fresh pasta, and other than needing a bit of muscle and a little time, making your own is incredibly easy. Though it's definitely easiest to roll out the dough with a pasta machine, it's also possible with a rolling pin. This recipe from Pepper is based on Thomas Keller's, which uses 6 egg yolks and 1 whole egg. The result is a very sunny dough that is both richer and firmer than other recipes.
Ingredients:
8 ounces all-purpose flour
6 egg yolks
1 whole egg
1 tablespoon milk
1 tablespoon olive oil
Directions: On a clean work surface, place your flour in the center. With the help of your two fingers, slowly make circular movements in the middle until you create a depression big enough and deep enough to hold in all the other ingredients. It's better to have a well that is too big than one that's too small. This will prevent the eggs from spilling and making a mess.
With the help of a fork or with your fingers, scramble the eggs until everything is well combined; only after this do you slowly mix the dry and wet ingredients together. Do this gradually, slowly incorporating the walls, until a dough starts to form. At this point, you can add more flour if the dough is too wet. You want dough that can hold itself together. It should be slightly moist but shouldn't stick to your hands. Be sure to scrape the surface for unblended bits and pieces so you can mix them back into the dough.
The last and most important step when creating the perfect pasta dough is the kneading. As Greg says, "don't even think about taking it easy on this! If you finish before you break a sweat or your hands start to get sore, then you didn't knead enough." Rushing through this will only result in poor pasta dough.
To knead the dough, fold the farther end toward you. Then, with the heel of your palms, push the dough away from you. Rotate and repeat several times. The dough will start off slightly sticky, but it's best to just flour your hands and the work surface rather than adding flour to the dough itself. This step works and develops the gluten in the flour, making it more elastic and creating that chewy texture so desirable in al dente pastas.
After 5 to 7 minutes of continuous kneading, the dough will begin to feel less sticky, but more elastic and smooth. You will know the dough is ready if, when you poke a shallow hole with your finger, the dough bounces back and smoothes out the hole.
Form the dough into a ball and lightly flour the outside. Wrap it in cling film and let it rest for at least an hour, though overnight is better, before rolling it out and cutting it into pasta strips. Not kneading the dough enough or not letting it get enough rest will make the pasta prone to tearing and breaking when you roll it out.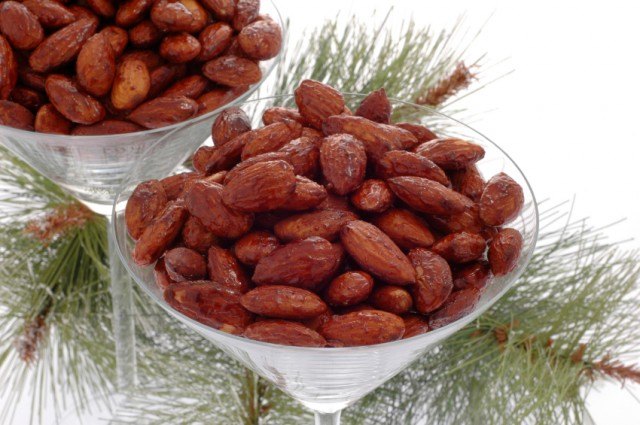 6. Spiced Spanish Almonds: 1 White
Now for the egg whites. Made mostly of protein and water, they're a very effective leavener, fluff-inducer, and "glue." These almonds use 1 whisked egg white to adhere a glazed coating of salty, sweet, and smoky spices. They're a great snack, party food, salad topper, or hostess gift. This recipe from Eating Well suggests using Spanish Marcona almonds, which are a bit flatter than normal almonds and have a slightly richer flavor. Try to find unsalted and oil-free nuts, if you can, though it's not a deal breaker. For smokier almonds, use smoked paprika and a touch more cayenne to make up for the lost heat.
Ingredients:
¼ cup light brown sugar
2 teaspoons ground cumin
1 teaspoon hot paprika
1 teaspoon dried thyme
1 teaspoon kosher salt
¼ teaspoon cayenne pepper
1 large egg white
1 tablespoon water
1 pound Marcona or raw whole almonds
Directions: Preheat oven to 275 degrees Fahrenheit. Coat a large rimmed baking sheet with cooking spray.
Whisk brown sugar, cumin, paprika, thyme, salt, and cayenne in a large bowl. Whisk egg white and water in a medium bowl until foamy. Add almonds and stir to coat; pour through a sieve to drain off excess egg white. Transfer the almonds to the bowl of spices; stir well to coat. Spread evenly on the prepared baking sheet.
Bake the almonds for 30 minutes. Stir, reduce the oven temperature to 200 degrees Fahrenheit, and bake until the almonds are dry and golden, about 30 minutes more. Let cool before serving, about 20 minutes.
7. Raspberry Coconut Macaroons: 3 Whites
Many coconut macaroons involve whipping the egg whites to stiff peaks, but that can be tricky with very small amounts of egg white in a big stand mixer. This recipe from Smitten Kitchen is made in a food processor, which means it can be scaled (with a little math) to whatever number of egg whites you have without worrying that you'll only whip half the bowl. The raspberries in this recipe offer a wonderful tart balance to the usually overly sweet cookies.
Ingredients:
14 ounces sweetened, flaked coconut
⅔ cup granulated sugar
3 large egg whites
Heaped ¼ teaspoon flaked sea salt or level ¼ teaspoon table salt
½ teaspoon almond extract
½ pint fresh raspberries; if washed, patted very dry
Directions: Preheat oven to 325 degrees Fahrenheit. Line two large baking sheets with parchment paper.
In a food processor, blend the coconut for a minute. Add sugar and blend another minute. Add egg whites, salt, and almond extract and blend for another minute. Add raspberries and pulse the machine on and off in short bursts until the berries are mostly, but not fully, broken down. Visible flecks of raspberry are desirable; resist stirring too much.
With a tablespoon measure or cookie scoop, scoop batter into 1-inch mounds. You can arrange the cookies fairly close together as they don't spread, just puff a bit.
Bake cookies for 25 to 30 minutes, until they look a little toasted on top. Let them rest on the tray for at least 10 minutes after baking, or allow them to cool entirely on the tray. The cookies will firm up a bit as they set, but they won't dry out internally as much as some traditional macaroon recipes.
8. Double Vanilla Meringues: 4 Whites
For light, airy, fluffy cookies perfect for spring, look no further than this recipe for meringue cookies from Cooking Light. Though they take 1½ hours to cook and another 1½ hours to dry out in the oven, they're incredibly easy, and most of the time spent on them is hands off. To make them really attractive, use a pastry bag fitted with a large star tip. If looks don't matter, cut a hole in the corner of a large zip top bag and dole out little mounds that way.
Ingredients:
1 vanilla bean, split lengthwise
4 large egg whites
¼ teaspoon cream of tartar
½ cup granulated sugar
⅔ cup powdered sugar
1 tablespoon vanilla extract
Directions: Preheat oven to 225 degrees Fahrenheit.
Cover two large baking sheets with parchment paper, and secure paper with masking tape.
Scrape seeds from vanilla bean. Reserve vanilla bean for another use.
Place egg whites and cream of tartar in a large bowl; beat with a mixer at medium speed until soft peaks form. Increase speed to high, and gradually add granulated sugar and then powdered sugar, 1 tablespoon at a time, beating until stiff peaks form. Add vanilla seeds and extract; beat just until blended.
Spoon batter into a pastry bag fitted with a large star tip. Pipe 60 mounds onto prepared baking sheets.
Bake for 1½ hours. Turn oven off; cool meringues in closed oven 1½ hours or until dry. Carefully remove the meringues from paper.
9. Egg White Frittata With Lox and Arugula: 8 Whites
If fresh pasta or custard was your prompting recipe, an egg white frittata is a tasty and healthy answer to having a crazy number of egg whites to deal with. The egg whites and lox offer plenty of lean protein, while the arugula gives the dish a necessary peppery freshness. You could always trade these two add-ins for anything else you'd like: sun-dried tomatoes and spinach, summer squash and watercress, or any of last night's leftovers, like chicken, sausage, broccoli, eggplant, ham — the sky's the limit. Frittatas are great for feeding a number of people, too, so keep this recipe from Giada de Laurentiis via The Food Network in your pocket for brunch ideas.
Ingredients:
8 egg whites, at room temperature
½ cup whipping cream
6 ounces lox, chopped into ½-inch pieces
1 lemon, zested
½ teaspoon kosher salt
½ teaspoon freshly ground black pepper
2 tablespoons olive oil
2 packed cups arugula
1 clove garlic, minced
Directions: Put an oven rack in the center of the oven. Preheat the oven to 350 degrees Fahrenheit.
In a medium bowl, whisk the egg whites until fluffy, about 30 seconds. Add the cream, lox, lemon zest, salt, and pepper.
In a 10-inch, ovenproof, nonstick skillet, heat the oil over medium heat. Add the arugula and garlic. Cook, stirring frequently, until the arugula has wilted, about 1 minute. Pour the egg mixture into the pan and stir to combine the ingredients. Cook, without stirring, for 4 minutes. Transfer the skillet to the oven and bake until set, about 10 to 12 minutes.
Slide the frittata onto a platter. Using a serrated knife, cut the frittata into wedges and serve warm or at room temperature.
https://www.rosemaryfarm.com/wp-content/uploads/2019/11/rmfcentered-300x138.jpg
0
0
Administrator
https://www.rosemaryfarm.com/wp-content/uploads/2019/11/rmfcentered-300x138.jpg
Administrator
2015-05-26 13:25:11
2015-05-26 13:35:30
9 Recipes You Can Make Using Leftover Egg Whites or Yolks